Being an effective Agile marketing organization is all about defining and communicating the right focus. As part of the Agile for Marketing Operating System™, focus includes two aspects. First, the ability to clearly articulate your organizational priorities and strategies. Second, communicating the problem you are solving for and defining the role Agile for Marketing will play within the organization. A shared focus is the foundation for the entire operating system. It deliberately provides the catalyst for change. Focus allows you to clearly communicate how Agile will support the larger business strategy. Focus redirects your team, helps you build the right processes, and fosters the Agile culture required for successful deployment of Agile for Marketing within your organization.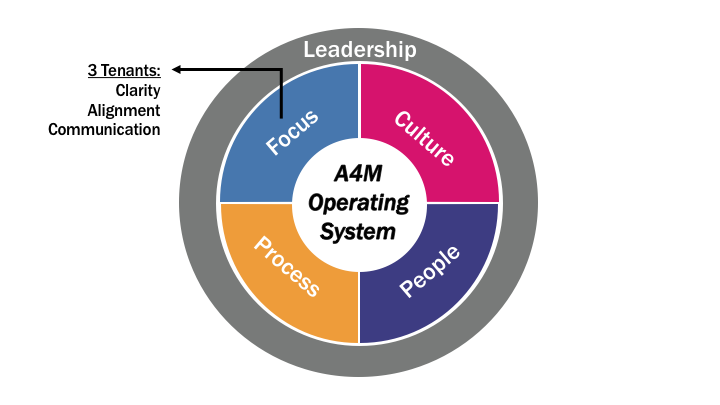 To create the Focus that is required for Agile success it is important to understand its key tenants:
Clarity
Alignment
Communication
Clarity
Today, your organization is producing the results, good or bad, that it is designed to produce. The problem is that legacy designs are not a fit for the marketing of today. If you want different results, you have to change the way you operate. That change begins with clarity about what you are trying to achieve and how you are going to achieve it.
For agile marketing to work, marketing organizations must have clarity on their key strategic priorities. Agile is all about keeping teams clear about which marketing initiatives will deliver the most value to the organization and their customers. This approach provides teams the ability to stay proactive while managing priorities and incoming requests. It is predicated on clear goals, objectives, and strategies and also requires a clear understanding of organizational capabilities and resourcing (e.g current skills & constraints).
To drive clarity within your organization, consider creating an agile team charter or roadmap. A charter should contain the following items tied to broader organizational goals:
Measurable goals and objectives
Roles and responsibilities
Success factors
Major milestones
Tool: Team Charter - An overview of the team's measurable goals and objectives, critical success factors, resource needs and high level milestones.
Alignment
Alignment can be defined as shared goals and a common understanding of how individual and team efforts support strategic organizational goals. Alignment, or lack there of, can have significant impact on an organization.
97% of employees believe the lack of alignment directly impacts the outcome of any given task or project.1
In order for agile marketing to be effective, marketing leadership needs to consider where the important points of alignment are with other stakeholders (sales, product, etc.) to ensure their prioritization reflects the needs of internal and external customers. They also need to ensure that the efforts of the individual agile teams are achieving the collective goals of the marketing organization. One place to start is with aligning on Key Performance Indicators (KPIs) that are tied to the business challenges rather than team-based initiatives. Without strong alignment on KPIs, the result will often produce performance metrics and expectations that reward performance in a silo over organization results.
Commitment to alignment is often driven by results. So be sure to thoughtfully choose what and how you are going to measure impact. Consider criteria that may fall outside traditional marketing metrics such as efficiency and throughput, revenues and profitability, as well as employee engagement and morale. Based on your business challenges, collaborate with your team to identify both traditional and non-traditional KPIs.
Tool: Marketing Roadmap - As a starting point for conversations around key strategies, tactics and priorities, plan to align on how teams will achieve goals and objectives.
Communication
Success in business is greatly impacted for better or worse by the way we communicate. This is a commonly held belief with 86% of employees and executives citing ineffective communication for workplace failures.2
In moving to an agile marketing operating system, organizations need to ensure that:
Agile teams and team members understand their role in delivering against marketing goals and objectives (e.g. the business challenge to solve for)
The roles and responsibilities on the team are clearly understood
The rest of the organization has an understanding of the team charters and priorities
The focus of the teams is clear.
To effectively communicate internally, you must consider both the message and how it's delivered. The message must convey a common vision. The message must address the business challenge you are solving for, the role Agile will play, as well as how individual roles and responsibilities will be impacted. The delivery mechanism must address where your organization and/or team may have silos and communication breakdown.
Focus is defined as the"state or quality of having or producing clear visual definition, the center of interest or activity".
As you think about your Agile Operating System, we encourage you to start with Focus. Begin having conversations to clearly define the business problems you'll address using gile marketing. Discuss organizational priorities and the degree to which those priorities are understood by all members of the team. Consider ways communication may help strengthen that understanding. Focus is the first step in a successful gile journey and is the key to ensuring gile teams are built on a solid foundation.
Focus is a critical part of what makes agile work well in marketing and beyond. Unless the organizational priorities are clear, aligned, and well communicated, it becomes challenging to stay focused on the work that produces results and moves your company closer to its business goals.
Get Ready. Be Agile.
Sign up to receive our continuing series on the Agile for Marketing Operating System.
Sources:
(1) 97% of employees believe the lack of alignment directly impacts the outcome of any given task or project. Fierce Inc. 2011
(2) 86% of employees and executives cite ineffective communication for workplace failures. Clear Company, http://bit.ly/1pMDEzt